Enter the "(Footage)" folder in the downloaded file. • Go to the "Design" folder. "Front.psd", "back.psd" are available. Inside the psd's, the "Close before saving" layer shows the area on the tshirt. After you add and save your design to these files, it updates automatically in the After Effects project. • Open the "Animated Tshirt Mockups.aep" file. • You will see that your designs are on t-shirts.
Control Layer

• Click on the "Control" layer. Open the Effect Control window.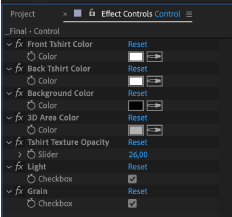 • Here you can adjust some settings.